Laptop Steering Wheel Desk
Par Mathieu le lundi 12 avril 2010, 16:19 - Humour - Lien permanent
Des fois on trouve des produits pour geeks étonnants, en voici un :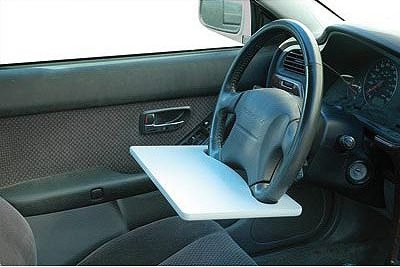 http://www.amazon.com/Mobile-Office-WM-01-Laptop-Steering/dp/B000IZGIA8/
En parcourant les nombreux commentaires, on se rend compte de la valeur du produit :
These worked great in the cockpit for our tanscontinental flights!
My copilot and I both used these during our "daily grind" transcontinental flights from San Diego to Minneapolis. We had to modify them a bit to fit snug against the instrument panels (when we bought them we didn't realize the planes we fly don't have steering wheels!), but in the end it did the job. With our laptops firmly in place we were able to focus our attention on what really mattered, participating in raids with our WoW clan. During our last flight we were so immersed in trying to take down Eranikus that we overshot Minneapolis by a full hour and a half before some annoying flight attendant interrupted us, babbling something about "FAA and F16 fighters."
We'll definitely use this product again at our next gig, whatever and whenever that happens to be...
Highly recommended!
I loved this so much I got one for my 90yr old mother
I loved my Laptop Steering Wheel Desk so much I got one for my 90yr old mother. She is an avid crossword puzzle fan and now she can work on them while she is driving back and forth from bingo at the senior center. One cautionary note be careful of those jerks that stop at yellow lights, my poor mother rear ended one and the airbag drove the desk back into her stomach which ruptured her spleen, well after a short down time I'm glad to say she is back on the road and cranking out those NY Times crosswords once again. Thanks Laptop Steering Wheel Desk you have made my mothers life more complete.
Be careful!
I absolutely love my steering wheel desk. It has really been a time saver balancing my checkbook on the way to work. I was just wasting that 30 minutes a day staring out a windshield, and now I am productive!
A word of caution: If you buy a used one, be sure that it is in mint condition. I got mine used and it clearly has the face print and a tooth of the previous owner imprinted into the surface.
Other than that, I just love it!
Les photos des clients en attestent la fonctionnalité avancée :